Summer after summer, nail art trends follow each other and are not alike. And for the summer season in 2022, it looks like our nails are getting flashier than ever. We therefore revisit the French manicure and the almond nail, but also the chrome or marble shades. Following our Maryton supply, take stock of the nail art trends to enhance your nails all summer long!
Trend 1: the French manicure is reinventing itself
The French manicure is making its big comeback in the summer of 2022. We therefore forget the traditional white demarcation line at the end of the nail, and we bring a little color: you can opt for a coral-colored line, pastel blue or even for a thin glittery strip at the end of the nail.
Trend 2: our nails are adorned with marble
Maybe you see them very often: marbled nails. This nail art trend consists of reproducing the indefinable texture and color of marble on your nails, for a natural and very chic look. You can also enhance your marbled nail art with a nail jewel.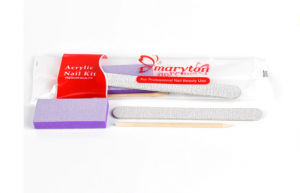 Trend 3: Our manicure gets chromed
Metallic shades have continued to gain ground in 2022. They are settling in the field of nails for an unforgettable nail art. Your nail technician will know how to adorn your hands with the metal of your choice, and can even create a shade.
Trend 4: we adopt mermaid nails
This nail art trend is characterized by its girly and glamorous side. It consists of making a sequined manicure, while betting on very feminine color combinations. We particularly like its glittery effect, but also its reflections!
Trend 5: the almond nail is making a comeback
Forget everything you always thought you knew about the shape of the nails, and adopt the almond shape without further delay. This will give you a nice base for your nail art, while bringing a glamorous and slightly vintage note to your summer looks.
OK! Now that you have known the 5 essential trends of summer 2022, bring your manicure supplies and act now! It doesn't matter if you don't have nail tools. We have everything all you need.
Read also: Grow Your Nails Faster: 3 Pro Tips