Wondering what is the ideal length for your nails? It depends on the shape of your hands and nails. How to highlight them and not damage the natural shape of your nails? Long nails, short nails, what to choose? In this article, our Maryton nail supply will tell you everything.
What is the ideal shape for short nails?
Short nails, provided they are cared for, are just as trendy as long nails. To facilitate nail growth, it is advisable to bathe in warm water to soften the cuticles in order to push them back. To have long or semi-long nails, they must be healthy.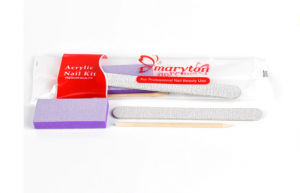 Medium to long nails, which shape is perfect?
If you have long or medium nails, the oval or almond shape is very flattering. It refines the fingers and lengthens the hands, making them elegant and feminine. The square shape is also suitable for medium to long nails. This shape allows you to assert your temperament. However, to achieve a square shape on medium to long nails, it is imperative that the nails are strong.
Very long nails, how to highlight them?
For those who are lucky enough to have very long nails naturally, a tapered shape will highlight them. The coffin or ballerina shape is one of the nail shapes to prioritize at the moment. You must file the corners of the nail to a point then place the file perpendicular to the nail. You can also leave your nails in a point shape. This form is not practical for carrying out the tasks of daily life, but it is still very popular.
Tempted? Bring your manicure supplies and start your manicure trip quickly! It doesn't matter if you don't have nail tools. We have everything all you need.
Read also: Summer trends: dare to color