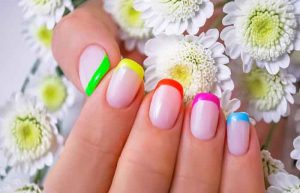 In pastel or flashy versions, varnishes express our desire for sunshine and lightness at the start of spring. So green, pink, blue, yellow… We dare to use color! Follow the guide to avoid missteps.
When applying a color of varnish to the nails, care must be taken to match it with your light, matte or tanned complexion. You have fair or milky skin, forget nail polishes in the same tones such as yellow or white, but also those that are too dark such as black or dark blue. Otherwise you can always opt for the timeless red, which suits everyone.
You have matte or already tanned skin, take advantage of vibrant colors such as fluorescent yellow, fuchsia or turquoise green. Without forgetting the metallic varnishes spotted, provided that the nail is well prepared and that the surface is perfectly smooth. Oranges, reds but also nudes, from beige to pastel pink via glossy brown, are colors that can be adopted both at work and on weekends.
If you're going for flashy shades, don't try to coordinate your eyeshadow. On the contrary, play it soft at eye level, and prefer a tinted gloss or a light lipstick as a reminder. Pastel shades, except for pinks, look best on short nails, while pepsy shades look best on slightly long nails.
In both cases, remember to apply a base beforehand, for better hold, but also for better rendering. As a bonus, it will protect your nails from highly pigmented varnishes.
Do you dream of a colorful manicure? Get your manicure kit and act quickly! If you don't have any nail beauty products, keep calm. Quickly discover our products by click here.
Read also: 3 homemade mask recipes for perfect hands