Have you ever been dissatisfied with your true wireless headphones, such as sound quality, lack of sound, and fit? PaMu Slide solves these problems!
Powerful bass using new technology, sound experience that can not be considered wireless is possible.
Ergonomic design that won't fall out of your ears even with intense movement, excellent fit and stability, 3 size eartips.
Earphone quick charge function that can be used for more than 1 hour with 10 minutes charge. Continuous playback for up to 10 hours on a full charge.
The PaMu Slide is a complete wireless earphone that integrates the advanced technology of Padmate, which aims to be the world's top audio system product. PaMu Slide raised $ 5.93 million in 2019 at the overseas crowdfunding service Indiegogo (1st place in the earphone category), and celebrities including NBA star players. It has become a hot topic globally with recommendations and reviews.
PaMu Slide is a completely wireless earphone that allows you to enjoy powerful sound that you can't think of wirelessly, with a stable connection between Qualcomm's new chip, LDS antenna and Bluetooth 5.0.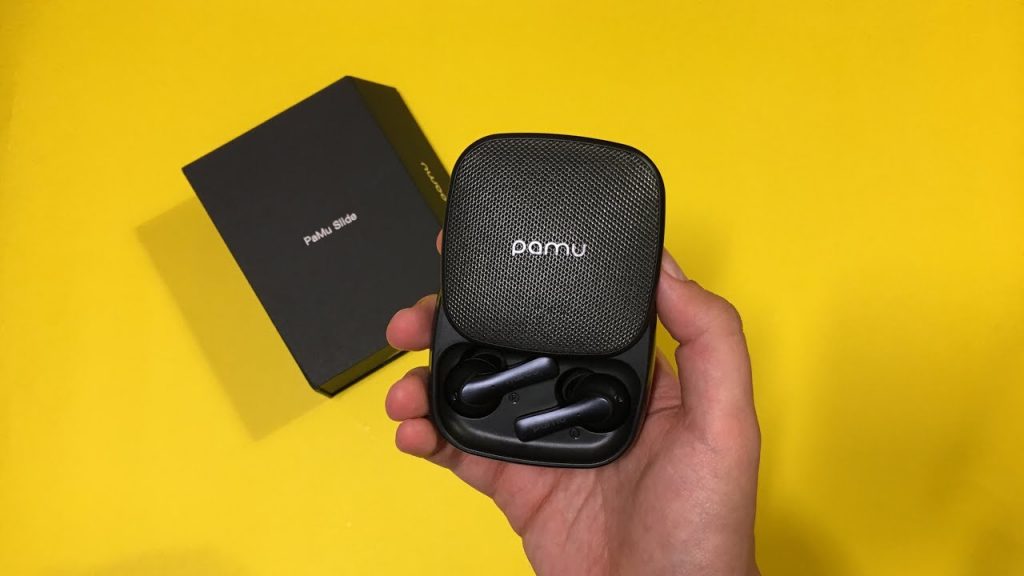 Designed based on ergonomics so that it won't fall off your ears, it's perfect for sports with an excellent fit and IPX6 waterproof performance. The smart sliding charging case also has a wireless charging battery function. It also comes with a nice additional feature that allows you to easily charge your smartphone wirelessly in case of emergency.
The "PaMu Slide" has established a long-awaited landing in Japan as an authorized Japanese importer! ! !
For those who have supported Makuake, we will deliver products that have acquired the Technical Mark and PSE certification so that they can be used in Japan. In addition, if there is a defect in the return product, Loa International Co., Ltd. will be responsible for Japanese language support.
We would like to enliven the project to bring the thoughts of the manufacturer to everyone, so thank you for your support! !
The sound of PaMu Slide is a powerful bass sound that makes it hard to hear even if you listen to it all day. The high frequency range of the vocals can be heard more clearly, and you can enjoy pure music as intended by the artist.
The frequency characteristic is an index that aims at the potential of the range of sound expression.
Looking at the graph, you can see that Pamu Slide is rich in sound expression, especially in the low frequency range. High quality is achieved in other sound ranges. Pamu Slide pursues the best balanced sound for all high, medium and bass sounds.
PaMu Slide adopts Bluetooth 5, LDS antenna, Qualcomm's new chipset. It is a specification that is easy to connect to the device and does not break the sound. Please enjoy a comfortable sound experience that makes you forget that it is a wireless earphone.
PaMu Slide is equipped with Qualcomm's new TWS earphone chip QCC3020, and can receive strong signals over a wide range. In addition, it supports both high-quality AAC and aptX codecs, so you can enjoy great music without sound loss.
The PaMu Slide development team has been able to develop earphones with a higher degree of completeness by improving the performance of the earphones in cooperation with Qualcomm engineers.
LDS antenna is an antenna technology with excellent communication sensitivity and stability mainly used for smartphone antennas. This time, by using an LDS antenna to connect the Bluetooth device and the earphone, stable communication is possible. The 6 micron diaphragm on PaMu Slide is designed to improve sound resolution and reduce sound distortion. As a result, you can experience fine and natural sound quality. Bluetooth 5 technology enables twice the data transmission speed, eight times the data transfer capacity, and a wider communication range.
Designed based on human engineering, PaMu Slide fits without running, jumping, or falling out of your ears. Unlike ordinary kernel-type earphones, the part to be inserted into the ear is designed to be an ellipse that is long up and down. And it is set at a position slightly lower than the middle of the head. When the earphone is inserted into the ear, it fits smoothly and gives an excellent sense of stability.
In addition, a silicon cap is adopted outside the earphone, and it is delicately designed so that the design is not lost while protecting the earphone body from scratches.
Just as music hobbies vary from person to person, the size and shape of the ears varies from person to person. In order to satisfy many people, PaMu Slide has prepared six ear tips specially designed from S to L + to accommodate any ear. You can enjoy music without going off during running or rock climbing. 3 types of ear tips that can be used from small ears to large ears are included with the earphones. IPX6 waterproof performance prevents permeation of sweat, rain and splashes. Please enjoy running and sports with confidence.
Are you inconvenienced by the bad battery life of your earphones? That's not the case with PaMu Slide. If you fully charge the earphone once, you can play music for up to about 10 hours. You can use it without worrying about the battery running out and stopping. The charging case has a large capacity of 2000mAh. Since the earphone can be charged about 5 times, it can be used for up to 60 hours.
Next-generation USB standard "USB Type-C" connector is installed in the charging case. Earphones support fast charging, allowing you to play and talk for over an hour with just 10 minutes of charging. You can charge while drinking a cup of coffee without having to wait for a long time even when the battery runs out. The dual microphone and noise reduction technology reduces ambient noise, allowing you to enjoy clear and comfortable music playback and calls in noisy environments.
The PaMu Slide case has a wireless charging battery function. There is no need to carry a charger, adapter, or cable, and you can charge by simply placing a smartphone on the case. Enjoy a true wireless life without cables.
Press the button on the charging case twice to enable wireless charging.
* The charging case itself cannot be wirelessly charged. Use the included USB-C cable to charge the charging case.
* To charge wirelessly, your smartphone must be a Qi-compatible device.
The smart magnetic charging case is easy to open and close, allowing you to quickly remove the earphones. Because it is held by magnetic force, even if the case is accidentally turned over when the cover is not closed, the earphone will not fall. While the case is charging, you can check the remaining battery level with the four LED lamps on the cover.
You can use the touch buttons on the earphones to adjust the volume, play / pause songs, and send / send songs / call Siri / Google Assistant.