We looked at the Padmate Pamu Slide, a true wireless phone that had problems, but resolved, can deliver very good quality.
We got the famous Padmate brand Pamu Slide, he's the famous killer of AirPods, or any of those adjectives that the internet has put into it. This phone was only possible through crowdfunding platform the Indiegogo site, at the time it cost $49, so it was cheap to buy. Yes, now for the other 99% of people who wants a quality true wireless headphones, let's start with its design and construction.
Design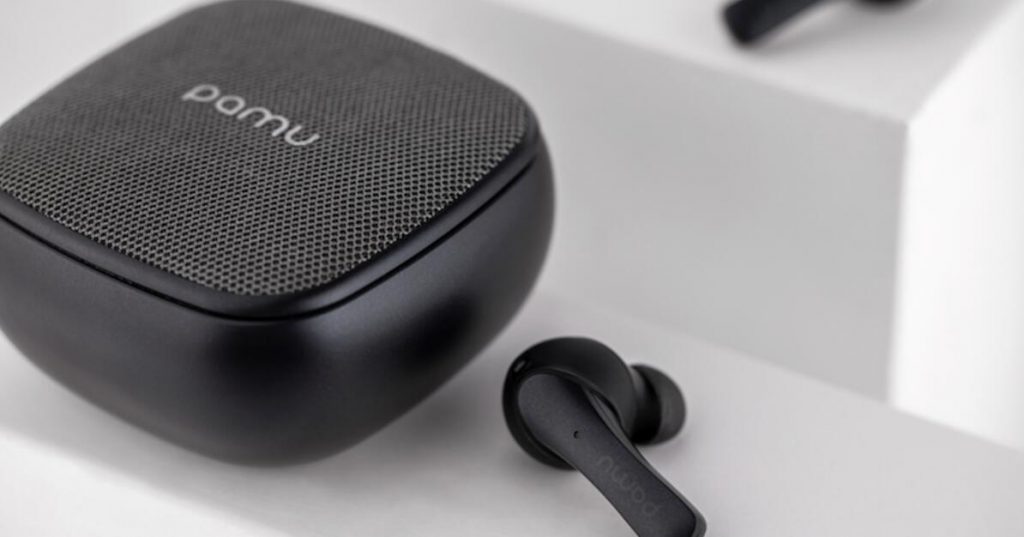 The box that comes with the headphones is big, in fact, and it bothers me that you put the right earphone on the left side. When I put the headphones in the box, it recharges, I talk more about the battery and duration.
This case is made of aluminum and the design is known for sliding the case lid. It is this movement that bears the name of the product, SLIDE. The model we have tested here, is the T6, it does not have wireless charging, but it has the Slide + version which allows you to use the box charge to charge your phone. The case has anti-fall system, has magnets in the box and headphones, when opened the lid are literally stuck so as not to fall and prevent loss of them.
The headphones have a traditional design of headphones, they are beautiful, and I confess that the white color is too cool. Black is discreet.
Never falls from the ear
That is Padmate's promise. In fact I don't like this kind of in-ears, but it fit my ears so well that maybe my prejudice can change because I misused the headphones I've tested to this day. They are comfortable, but not to be 10 hours straight with them, at least I was not used to them yet. By the end of the first day I wanted to take them off. There are 2 other different size rubber kits to fit all ear sizes.
Usage and buttons
Buttons? None, at least not physical. This is why he has this rubber wrapped around the headphones so that his ear does not come into contact with the outside of the headset, there concentrates two touch-sensitive buttons, which have different functions.
For example, you can pause and play the song or answer calls just by pressing either side, but on the right side, pressing twice will play the next song, while on the left side by pressing twice it opens the SIRI voice assistant, Google Assistant, or even poor cortana on Windows. When calling the phone, you can reject the call by double-pressing either side as well.
To lower the volume, you have to press and hold the left side, and increase the volume is on the right side, also pressing and holding.
Water resistance
It has water resistance, so you can run or practice activities on rainy days. But it is not allowed to swim with him, because nobody should enter the water with headphones. But what I mean, you don't have to worry about sweat or rain.
Connectivity
Connectivity is easy, to pair with your phone or notebook, just take them out of the box that your phone will already find available for pairing. To turn off the headphones, just put it back in the case.
Connectivity is via bluetooth, version 5.0. The latest version lets you keep cool even at greater distances or even through walls, but not that far. About 15m away from the receiver there are already signal failures.
Latency
I tested some headphones here on the site, which were not even reviewed because they are low quality products, had huge latency, watching a video people were talking and the sound came before, was something like watching dubbed videos, which disturbed me quite. In Slide this does not happen, at least not near the transmitter.
Battery and recharge
The Pamu Slide have 85mAh in each handset. This battery lasts around 10 hours listening to songs without stopping. It is plenty of time for those who are going to run or even listen for a full day of work. In the days we tested, it lasted a long time, we never ran out of battery, so the maximum period tested was 8 hours and the phone still showed about 18 to 22%, which shows the duration exposed by the manufacturer. The use was always close to the notebook that was connected, with volume in the middle.
The case has a 2000mAh battery, then, and allows full recharging of the headphones in 5 times. Therefore, if you are going to use it for work, you will have to recharge the headphone case on average from 5 to 6 days with the USB -C cable that comes with it.
Fully charging the headphones takes about 1 ½ hours, but with 5 minutes of charging you get 1 hour of battery life.
Sound
Nothing I've ever said would be worth it if the sound was bad, right? Well then, there is the icing on the cake. Surely you the first time you use it and start playing that song you like, you know, why didn't I buy it before.
But let's go to sound criticism, because it features AptX, a technology that compresses the file at source and decompresses at destination quickly, it tends to deliver more data and maintain better audio quality, as if you're playing a wired headset. . And in fact it works, sounds without any equalization have an emphasis on low midrange frequencies, that is, it focuses on the bass being well defined.
We can also highlight in songs the good vocal performance, really pleases in this regard.
Mid and high frequencies are smoothed, which is good for physical activity where you try to turn up the volume to avoid wind and noise. This increase in volume does not cause discomfort when listening and does not impair your hearing.
The maximum volume is not so high, you will not be deaf listening to time, but also not low, which makes us be balanced right, Nicolas. If it is neither tall nor short, it is balanced.
In calls it does well too, its noise reduction helps you out in noisy open environments. By the way, this is a strong point of the phone.
Verdict
The lay question is what sound is good? Yes, as far as possible. When you put it on for the first time, as I said, it will say, hey, the sound is cool, has quality, does not pop, is not squeaky, has decent volume, a headset you will not regret buying, at least if not has tested others.
I really want to try out Xiaomi's Airdots , very trendy out there too, so to draw a real conclusion, whether Pamu Slide is better than him or vice versa.
Compared to Huawei Hi-RES USB-C headset , which comes with the P30 Pro , by the way, the best earbud headset I've ever used, I can say that this one is very close, if it doesn't match it. The difference is wireless, which is comfortable and much better for physical activity.
If you prefer brighter signature sounds, more neutral sound, Pamu Slide is not a cool option, now if you like bass this is good.