For some time now, pompoms have been very fashionable, we see them in all sizes, all colors and everywhere; in key chains, handbags, shoes, dresses, hats, phone cases, etc. So why not on the nails under the name of Pompoms Nails? Your expert nail supplier Maryton will tell you the things about the nail pompoms!
What are Pompom Nails?
For a few years, Nail Art has shown us all the colors and all the shapes. This year, here is the new manicure trend; Pompoms Nails that go perfectly with the fashion for pompoms in clothing and accessories.
This trend represents false nails decorated with pom poms. The models, colors and sizes differ according to the desire, the outfit or perhaps even the weather. Pompoms nails are very fashionable and funny, for totally in young girls.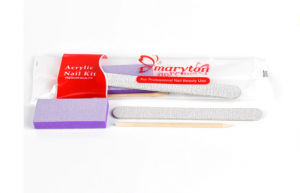 Fur on the nails: the instructions
Making Pompoms Nails on the nails is not complicated, in the end it all depends on the desired result. It can indeed be very complex for a sophisticated design.
First of all, you have to prepare the nail: remove all traces of old varnish with nail polish remover, clean it well, get rid of the cuticles and soften the nail.
Secondly, apply a transparent base on the nail to protect it.
Then, apply the varnish of your choice, all over the nail and let dry. A second coat of varnish can be applied, if necessary, and allowed to dry again.
Finally, when the varnish is dry, put a drop of varnish on the place where you want to put your ball of fur, put the pompom on it and press it without moving it.
We hope you enjoy this article! To get all the necessary equipment, I advise you to invest in a complete manicure set! To help you in your choice, I invite you to visit our website.
Read also: Nail art: The contouring technique